Bachelor of Science in Nursing Degree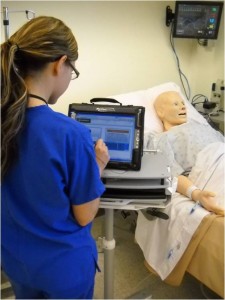 Earning a Bachelor of Science in Nursing degree can be the first step in starting an exciting career in health care. Nursing students learn the basics of patient care, physical examination, medication administration and in-depth human anatomy. Bachelor of Science in Nursing Degree classes may include pharmacology, advanced biology, human anatomy and nursing theory. Clinical experiences are an important part of earning a Bachelor of Science in Nursing Degree. This hands-on practicum gives nursing students real-life experience prior to starting their first jobs. Clinical experiences often include learning skills such as taking blood pressures, starting intravenous lines and giving injections. Clinical experiences may take place in the hospital or in community settings such as schools, elder service centers or health fairs.
Bachelor of Science in Nursing degree programs are typically four years in length. Graduates of a nursing program are eligible to apply for licensure as a Registered Nurse. Licensing requirements vary by state. People who earn a Bachelor of Science degree in Nursing have an interest in health care and enjoy working with people. They often work twelve hour shifts, three or four days in a row. Nursing can be a great career for someone who likes to travel or spend time with friends and family since they often have three or four days off a week.
How To Find The Top Bachelor of Science in Nursing Degree Programs
There are many choices when searching for the best Bachelor of Science in Nursing degree program. With schools across the country, it is important to research what program will be the best fit. If the campus is too far, an internet search can reveal the best online Bachelor of Nursing degree programs. Regardless of the program being online or on campus, it is important to determine the quality of the nursing program by looking for an accredited program. Accreditation may be granted by the American Association of Colleges of Nursing or the National League for Nursing Accrediting Commission.
According to the U.S. News & World Report, the three top nursing schools in the country in 2011 were Johns Hopkins University, University of Pennsylvania and University of Washington. Johns Hopkins Hospital began a nursing training program in 1889, and officially formed a nursing school in 1984. Students at Johns Hopkins have the benefit of clinical experiences at Johns Hopkins Hospital, the number one ranked hospital in the country.
University of Pennsylvania boasts a number of resources not available at other schools including a state-of-the-art simulation lab with life-like mannequins and classrooms with the latest electronic medical record technology.
The University of Washington Nursing School has been educating nurses since 1918. It is one of the top research funded programs with over 186 current active and pending research projects.
Careers and Salaries For Individuals With a Bachelor of Science in Nursing Degree
Bachelor of Science in Nursing degree salaries can vary widely. Salary is dependent on specialty, geographic location and years of experience. According to the Bureau of Labor Statistics, in 2009, the mean annual salary for a Registered Nurse was $66,530. States that paid the highest were New Jersey, Maryland, Hawaii, Massachusetts and California.
Bachelor of Science in Nursing careers are plentiful. Nurses can specialize in many different fields including cardiology, emergency nursing, oncology or pediatrics. One of the great things about a nursing career is the ability to change specialties or care for a different patient population with little to no additional training. The Bachelor of Science in Nursing degree is an excellent choice for someone looking for a challenging career that provides both flexibility and job security.